Careers
Every employee makes the Difference
At Food Authority, we provide full-service purchasing, Customer Service, and last mile distribution to our customers so they can focus on what they do best. In a rapidly changing distribution market, we are always looking for great people to come join our FAmily.
Explore your options with Food Authority:
Join our Corporate team – if you are seeking a rewarding career in a fast-paced ever-changing industry, then Food Authority is the place to be. Since 1977, we have been a leader in food distribution in the tri-state area.
Our corporate headquarters is based in Hauppauge, NY. The following departments are based in this location:
Customer Service
Information Technology
Purchasing
Finance
Operations Management
Human Resources
Safety – Food, Employee and Fleet
If your talent is in any of these departments, please click on the application link to send your resume to our Corporate HR team.
Field Locations:
Food Authority's three facilities service the East Coast from Maine to Southern Virginia, with our corporate headquarters located in Hauppauge, New York.
In each facility there are Warehouse functions and Delivery functions.
Our Warehouse receives, inventories, QA's, picks and palletizes the customer orders. The Warehouse is open from Sunday through Friday and our warehouse associates work a 1st shift.
We service a few thousand locations, who receive orders at least 3 times a week. Service, Safety, Speed and Accuracy are 4 important attributes needed to be successful in any of our Distribution centers.
Selectors are picking orders and building pallets ready to be delivered to our customers. The Selectors use a Voice Command picking system that tells them how much to pick and from what location in the building. Our Selectors are paid on an incentive based on cases picked per day.
As a Selector, 1 year picking/selecting experience is needed, power-jack experience, ideally worked with a computerized picking system such as VoCollect and the ability to build pallets and pick 50-75lbs consistently.
Receivers and Loaders bring the product into the facility, put it in slots and replenish so that the Selectors have the product they need to pick and then load the trucks with the finished pallets, making sure of proper weight distribution to ensure our trucks safely deliver each night. Receivers and Loaders can work 1st or 3rd shift and are paid hourly.
As a Receiver or Loader, 1+ years' experience as a Forklift Operator is required as well as a previous forklift certification and a safe track record.
Each year our Delivery team drives millions of miles to customer locations to deliver and replenish store coolers and freezers so that when the stores open, they have everything they need to start their day. Our Drivers work at night, when the traffic is light, and parking is easy. Each Driver is home every day. Many, but not all Drivers, have a Helper who share the unloading and putting away of the product at the stores.
As a Driver, minimum requirements needed are:
An Interstate (Class A or B) Commercial Driver's License (including cleared background check)
Minimum 1-year consistent CDL Driving experience in last 3 years, ideally 3+ years.
No more than 1 accident in last 3 years
No more than 1 driving related suspension in last 3 years
No more than 2 minor moving violations while operating a CDL truck in last 3 years
No serious moving violations while operating a CDL truck in the last 3 years
Current DOT Medical Card
---
Current Openings
Hauppauge, NY
*CDL A Driver (Delivery)
*CDL B Driver (Delivery)
Driver Helper (Delivery)
Receiver/Loader (Warehouse)
Selector (Warehouse)
Porter (Warehouse)
Jessup, MD
*CDL A Driver (Delivery)
*CDL B Driver (Delivery)
Driver Helper (Delivery)
Receiver/Loader (Warehouse)
Selector (Warehouse)
Porter (Warehouse)
Westborough, MA
*CDL A Driver (Delivery)
*CDL B Driver (Delivery)
Driver Helper (Delivery)
Receiver/Loader (Warehouse)
Selector (Warehouse)
Porter (Warehouse)
---
Get paid up to $5000 to refer a friend

$5000 for CDL B or CDL A
If you are a current Food Authority employee and you refer a friend who is hired, you could get paid $500 for a Selector/Receiver/Loader/Helper, $1000 for a CDL B Driver or $1500 for a CDL A Driver. #friendsoffoodauthority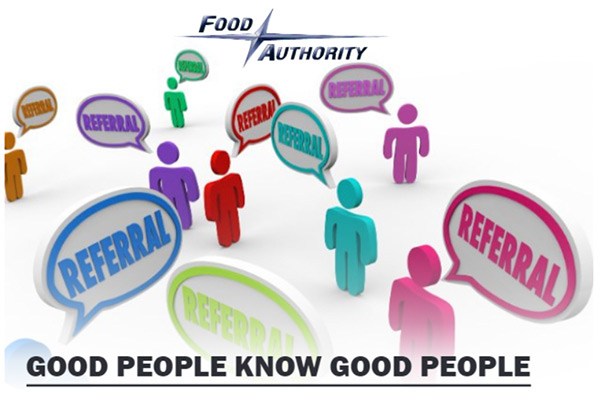 ---
As a Company, Food Authority is dedicated to building the best and strongest FAmily, where every employee has an opportunity to grow, both individually and as part of our team. In addition, we offer a full benefits package to 98% of our employees.
These are the benefits provided to our FAmily members:
Benefits
Medical
Prescription Drugs
Health Savings Plan (HSA)
HealthCare FSA
Dependent Care FSA
Health Advocate
Telehealth
Dental
Vision
Work/Life
Employee Assistance Program
Discounts through LifeMart
Verizon Wireless Discounts
Vacation
Sick/Personal Time
Birthday/Anniversary
Direct Deposit
Paid Weekly
Paid Holidays
Paid Jury Duty
Safety Awards
Work clothes provided
Family Security
401k with 4% match, no vesting
Life and AD&D
Disability
Leave of Absence
Hospital Indemnity
Critical Illness
Accident
Term Life
Short Term Disability
Legal Services
---
Why work for Food Authority?
Great Package
Excellent Pay
Start accruing Time Off immediately
401k with 4% match and no vesting after 1 year
Benefits after 60 days
Company provided clothing
Payment for Everything
Paid to train
Paid for breaks
Quarterly Safety Awards
Perfect Attendance Bonus
Paid for extra stops, extra days, breakdown
Birthday, Work Anniversary
Family Friendly
Local Delivery and home every day
Consistent Schedule and route
Often a Driver Helper to support you
Employee Assistance
Paid weekly
---
Food Authority is an equal opportunity employer that is committed to diversity and inclusion in the workplace. We prohibit discrimination and harassment of any kind based on race, color, sex, religion, sexual orientation, national origin, disability, genetic information, pregnancy, or any other protected characteristic as outlined by federal, state, or local laws.
Email HR for questions or further information.